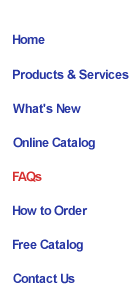 Are minimum quantities required?
No. There is a service charge; however, for orders of fewer than 12 caps, 25 patches or 5 jackets, because of the additional setup time involved. Please contact customer service for more information.

Does ATI offer quantity discounts?
Yes. Price discount levels are at 12, 36, 72, 144 and 288 items. For special team and league pricing, please contact customer service.

How much do embroidered items cost?
American Threadworks, Inc. offers a wide selection of high-quality sportwear and accessories. Prices depend on the item style, quantity and amount of embroidery. Polo shirts with a left chest embroidery typically range in price from $16.00 to $28.00. Sweatshirts range in price from $16.00 to $35.00. Denim shirts prices range from $20 to $35.00 and jackets generally range from $20.00 to $75.00. There is a one-time set-up charge for custom logos (see below). Please contact customer service for more information.

Is there an additional charge for extra colors in my embroidered logo?
No. You may use up to 15 different colors on embroidered sportswear. On printed sportswear and embroidered patches there is usually an additional charge for extra colors. Please contact customer service for more information.

Can you match Pantone PMS colors from my artwork?
Yes. We have hundreds of embroidery thread colors available, so that we can closely match any Pantone PMS color.

I have my logo artwork on a computer disc. Can you use that for embroidery?
Not directly. Computer artwork files are useful for pricing and for preparing to "translate" your logo into the unique process and software used for computerized embroidery. The best artwork is a good quality, clear, black and white line drawing. Areas of different color should be indicated with arrows on a separate copy of the artwork. Your logo artwork should be two to three times larger than the final embroidered size, if possible. For pricing, you may e-mail or fax your logo to customer service. We prefer JPEG, TIFF or GIF graphic files. PSD (v. 4.0), BMP, and CDR (v. 6.0-8.0) files may also be accessible. If you have a computerized embroidery system design disc, there is a good chance we can use that directly. Please contact customer service for details.

How much does preparing a custom embroidery logo cost?
The one-time set-up charges for custom logos depend on logo size and complexity. Small chest and cap front designs range from $40.00 to $125.00. The average small logo set-up charge is $75.00. For full chest and back designs, set-up charges range from $125.00 to $500.00, with an average of $150.00 . There is usually no charge for logos using only "stock letters" from our library of over 100 stock letter styles. We also offer "stock" embroidery designs which are usually less costly than custom designs. Please contact customer service for more information.

How small a letter can you embroider?
In most cases, the smallest letter size that embroiders well is 3/16-inch (5.5 mm) high. If the fabric is highly textured or has a high loft, like fleece, larger letters may be needed for best results.

Can you provide a mini-catalog of selcted items for my club or organization?
Yes. Our customer service department would be glad to work with you to assemble a mini-catalog of selected items embroidered with your organizations logo. We can even take orders directly from your members and drop-ship their order to them for you, saving you time and money!