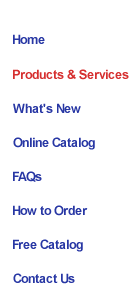 Boost your company's image and morale with garments tastefully embroidered with your company's logo. You can select from a wide range of sport shirts, oxford and twill dress shirts, denim shirts, and outerwear to meet every budget and need. These custom embroidered garments will project a professional look for your employees or be much-appreciated corporate gifts for your customers. ATI offers designer labels such as Bill Blass, IZOD and Arnold Palmer as well as classic brands like Outer Banks, Van Heusen, Munsingwear, Cross Creek, Lee and Blue Generation.

Whatever your interest or hobby - top-quality embroidered sportswear from ATI will promote your club or organization and show pride of membership. Select shirts, jackets, caps or patches custom embroidered with your club insignia. With in-house embroidery design digitizing and a library of over 20,000 stock designs, ATI can provide garments for member awards, special events and fundraising. ATI can also help you service your members embroidered sportswear needs- saving you time and money! Your members can order by e-mail, fax, phone or mail directly from ATI and their order will be shipped from ATI to them.
Embroidery has always been an important part of the sports scene. Whether your team is pee-wee, little league, high school or college varsity or a company team, ATI has warm-ups, sweats, T-shirts, caps and jackets to give your team a great look. And don't forget your fans, moms and dads, too. ATI has a wide choice of mascot logos as well as over 100 stock alphabets including tackle twill. ATI carries such famous sport brand names as: Champion, Russell Athletics, Badger, GAME, Holloway, Rennoc and Birdie, to name just a few.


ATI provides embroidered activewear that not only look good, but wear well on the job and identifies your staff. ATI supplies comfortable, yet sturdy shirts for police departments, EMT's and paramedics; job shirts for fire departments; lab coats for hospitals and medical offices; shirts, aprons and chef coats for restaurants; and work shirts for service technicians. These garments can be easily personalized with employee names. ATI will even sew on your own special designation or service patches as well!


Commemorate a special event or recognize a special person with a custom embroidered gift. ATI offers a wide variety of: baby blankets, Keepsake Pillows, Couch Caddys, Woolrich stadium blankets and fleece throws. Just provide ATI with the vital statistics and your one-of-a-kind embroidered gift will be shipped directly to the recipient in time for that special birthday, wedding, anniversary, Christening, graduation or family reunion. For a nominal charge, ATI will even gift wrap it and include a card from you!